Edward D Walker - Sea Liverpool Book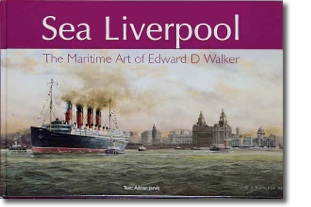 Ted's first book 'Sea Liverpool: The Maritime Art of Edward D Walker' showcases 38 of his paintings, nearly all of them with a Port of Liverpool connection.

The paintings range from Samuel Cunard's Britannia of 1840 to Cunard's Queen Mary 2 which Ted was commissioned to paint for a Royal Mail first class stamp a few years ago.
Amongst other transatlantic liners pictured in the book are the much-loved Mauretania, Aquitania, Franconia, Caronia and Reina del Pacifico as well as the ill-fated Liverpool-registered Titanic and frequent visitor to the Mersey, QE2.

Price: $24.95
Included are vessels from the romantic sailing ship era along with the Mersey Ferries Woodchurch and Upton, the Isle of Man ferry Manxman, Planet lightship, Royal Navy vessels HMS Whimbrel and HMS Cornwall and the submarine HMSUnicorn. Of special interest are two paintings of the Birkenhead-built Confederate blockade runner CSS Alabama which wreaked havoc among Union shipping during the American Civil War. The last act of that war, the surrender in the River Mersey of another Confederate warship, the Shenandoah, is also pictured in the book.

Ted's magnificent paintings are enhanced by individual write-ups of each subject specially commissioned from Dr Adrian Jarvis, former Keeper of Port History with National Museums Liverpool. Readers will find them authoritative, and illuminating.


You are viewing our US Website. To visit our UK Website Click here